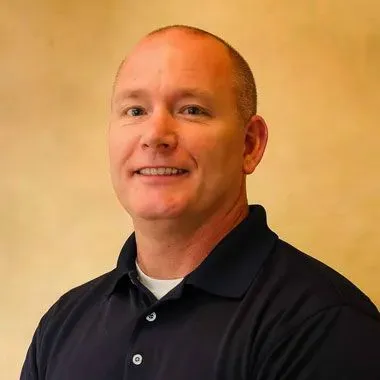 Thomas Donahue, D.C, DACRB
Chiropractor
Dr. Thomas Donahue suffered from lower back pain when he was only nine years old, and the problem progressed until he started to have trouble walking as a teenager. Everything changed when he visited the chiropractor for the first time in 1987. It wasn't long before Dr. Donahue felt no pain and regained full mobility! The whole experience inspired him to become a chiropractor himself, and he hasn't looked back since.
Dr. Donahue is from Long Island, New York and attended the New York Chiropractic College in Seneca Falls, graduating with honors in 1996. Many previous visits to central Ohio prompted a move to this area that same year—Dr. Donahue has been practicing here ever since. He's been a professional chiropractor for more than two decades and is the proud owner and operator of Back to Health. Dr. Donahue is National Board Certified and BWC Certified, and holds certification in electro-diagnosis and has logged more than 208 board-approved professional hours to date. In 2020, he earned board-certified status as a Diplomate of the American Chiropractic Rehabilitation Board after completing more than 150 rehabilitation hours, submitting an extensive case study, and passing multiple exams.
As a chiropractor, Dr. Donahue's favorite part of his job is working hands-on with patients to improve their functional capacity, and he's fond of using rehabilitation and lifestyle modification to help keep his patients in good health. (He recently earned his diplomate in rehabilitation!) Dr. Donahue also enjoys serving as an expert witness in court cases.
Away from work, Dr. Donahue likes running, weight lifting, lacrosse and football, and enjoying a good bourbon or wine. He's also an avid motorcyclist and is even part of a charitable group that helps others through their riding hobby. He and his wife, Laurie, have two children: their daughter will soon graduate from Ohio State University and their son plans on attending the university in the very near future.
---
David Sampson, DC
Chiropractor
Dr. David Sampson's passion for chiropractic care began shortly after his career in the United States Army ended. He was experiencing severe and frequent headaches while working toward his science degree, and someone suggested that he see a chiropractor. Dr. Sampson took that advice, and his condition improved instantaneously after his first appointment! He knew that he had to learn more right away—now, he's a chiropractor himself.
Dr. Sampson graduated cum laude from Palmer College of Chiropractic in 1997 and opened his first practice, Chiropractic Associates of Columbus (now Allied Health Professionals), over 22 years ago. His favorite part of the profession is seeing his patients live in freedom—for him, seeing them be able to do the things they enjoy, pain-free, is the ultimate reward. Dr. Sampson is thrilled to continue making a difference as a member of the Back to Health team!
In his spare time, Dr. Sampson enjoys keeping up with the latest research in chiropractic and exercise science—he says exercise has been his first love ever since the age of 14!—and spending quality time with his family. He and his wife, Linda, have two children: Ian, currently serving in the United States Navy as a combat medic, and Elizabeth, who studies at the Fisher School of Business at Ohio State University.